Meet Our Veterinarians
L.R. 'Luke' Chachere, DVM

Veterinarian

Dr. Luke Chachere established Chachere Veterinary Clinic in August of 1984 after completing his Doctor of Veterinary Medicine Degree at Texas A&M University. Born and raised in Dayton, he returned home to serve his community as a veterinarian. His wife, Julie, is also a lifelong Dayton resident and teaches school in Dayton I.S.D. Dr. Luke is the father of 3 children and a "Doc Doc" of 2. He and his family are members of Calvary Baptist Church in Dayton. He is also a seven-term member of the Dayton Independent School District Board of Trustees and a member of the Dayton Rotary Club. Dr. Luke and his son, Dr. Lukas, own L Chachere Cattle, a successful show cattle operation in Dayton. Dr. Luke is an avid supporter of Dayton youth and school functions.
Lukas Chachere, DVM

Veterinarian
Dr. Lukas Chachere was born and raised in Dayton, TX. He was very active in the Dayton FFA and exhibited cattle across Texas and the USA. He graduated from Dayton High School in 2006. He received his Bachelor of Animal Science from Texas A&M University in 2010 and his Doctorate of Veterinary Medicine in May 2014. Dr. Lukas returned home in May 2014 and began practice the following week. He is the eldest of Dr. Luke's children. He enjoys working on all types of animals as well as with junior livestock exhibitors and staying involved in the community. Dr. Lukas received his certification by the American Embryo Transfer Association in 2018. In addition to an expanding veterinary practice, Dr. Lukas and his Father run a successful show cattle operation, L Chachere Cattle, raising registered and crossbred calves. Dr. Lukas and his wife Makenna, welcomed a baby girl into the world in December of 2022. They have a variety of pets at home.
Anthony Labbe, DVM

Veterinarian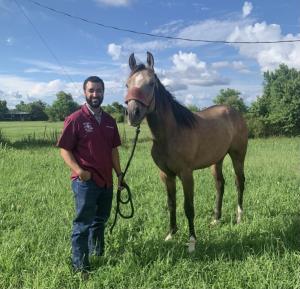 Dr. Anthony Labbe was raised in Manvel, TX and was an active FFA member along with being very involved in rodeo. Dr. Labbe trained rodeo horses as well as participated in calf roping and bull riding. He attended Sam Houston State University and Texas A&M University for his undergraduate degree and earned a Bachelor of Science in 2016. He then earned his Doctorate of Veterinary Medicine from Texas A&M in May 2021. In his spare time Dr. Labbe enjoys hunting, fishing, and playing baseball. He also trains horses of his own.
Meet Our Management Team
Rebecca Garvin

Practice Manager
Rebecca was born and raised in Dayton, TX. She is Dr. Lukes youngest daughter. She grew up playing and working at the clinic and is now back full time as practice manager. Rebecca was working as a radiologic technologist for five years before deciding to move back to her hometown of Dayton to start a family and re-join the family practice. She loves all animals and has two labrador retrievers of her own.
Julia Rocha

Laboratory Manager
Julia re-joined our team after taking some time off to start a family. She plays a large role in our team as our laboratory manager. She is also one of our bilingual employees and aids frequently with our Spanish speaking clients. She has two children and her puppy dog, Cookie. She loves to spend all of her free time with her husband and kids.
Kayla Dedear

Assistant Lab Manager
Kayla is currently one of our receptionists but is training in all aspects of the clinic. She has a bachelors degree from Sam Houston State University. Kayla is a mother of three and a bonus mom of two. She has two German Shorthaired Pointers. When she's not at work she enjoys hunting, fishing and spending time with family.
Meet Our Reception Team
Stephanie Larrison

Lead Receptionist
Stephanie is our most experienced receptionist. She has over 20 years of experience working in the veterinary field, she is full of knowledge and wisdom. Stephanie always will greet you with a happy face at the reception desk or a friendly voice on the other end of the telephone! She and her husband reside in Dayton with their dogs Finnie, Willow and Maiden.
Chelsie Molina

Receptionist
Chelsie will greet you and your pet with a smile when you walk in the door! She enjoys spending time with her family and has a few pets of her own. She has a turtle, betta fish and a labrador retriever. In her free time she enjoys hunting and fishing.
Regina Juarez

Receptionist
Regina is new to the veterinary field but adapting well. She is a mom to one, bonus mom to 3 and a Gigi to 8. Regina and her husband of twenty-five years have a mini-Australian shepherd at home, Mia. Outside of work she enjoys spending time with friends and family.
Lucia Pasillas

Receptionist
Lucia is our newest receptionist. She has her associates degree from Lee College. At home she has a dog and dancing horses. Her family raises and trains dancing horses. In her free time she spends time with her family and watching football.
Meet Our Veterinary Technicians
Candice Pifer, LVT

Lead Veterinary Technician
Raised in Dayton, Candice graduated from the Vet Tech Institute of Houston, and joined the CVC crew as a licensed veterinary technician in 2017. She is especially passionate about caring for our critical and hospitalized patients, and helping acclimate nervous pets during vet visits. When she is not at work, you can find her swimming, painting, or wrangling her seven dogs, two cats, two lizards, five snakes, and a prairie dog!
Jorge Cabrera

Large Animal Technician
Jorge is our large animal technician. He joined our team earlier this year. He is from Mexico. He studied veterinary medicine at the University of Guadalajara and earned his veterinary license in Mexico in 2021. He is now working on earning his United States & Texas veterinary license. In his spare time he enjoys fishing, hiking and taking his dogs on walks.
Katherine Freitas

Veterinary Technician
Katherine is a veterinary technician. She attended Crosby High School then the Vet Tech Institute of Houston. Katherine has two dogs, Apollo, a boxer mix and Zoie, a chorkie.
Adrianna Gallardo

Veterinary Technician
Adrianna is a veterinary technician. She attended Hargrave High School, Texas State University and graduated form the Vet Tech Institute of Houston. She has a chihuahua named Zoe and a quarter horse line back dun named Phoenix. When not at work she enjoys being outside and trail riding.
Meet Our Veterinary Assistants
Angel Richard

Veterinary Assistant
Angel was an early graduate from Dayton High School in October of 2018. In May of 2019, Angel was hired on as a kennel assistant. She helped everywhere she was needed. Angel has two cute friendly pets. Gus, a Labrador Retriever, and Kitana, a calico cat. In Angel's free time she loves to skate, draw, and spend time with friends and family.
Cody Havard

Veterinary Assistant
Cody graduated from Tarkington High School in 2018. Cody started working in the fall of 2019 at the clinic. He helps keep our facility clean and also escorts you and your pets to and from the exam rooms. During his free time, he enjoys working cattle, hunting, fishing, and spending time with his family. Cody also volunteers with the Tarkington Fire Department.
Peyton Anderson

Veterinary Assistant
Peyton has been with the clinic since June 2020 and assists with large animals. She has a variety of animals at home including dogs, cats, pigs, a horse, rabbit, and most importantly her service dog, Waylon. In her free time she likes to go to rodeos, bow fish, hunt and dance.
Allison Carroll

Veterinary Assistant
Alyson is a veterinary assistant. She has not been in the veterinary field long but has a lot of hands on experience with all kinds of animals. At home she has dogs, chickens, quail, ducks, rabbits, pigs and coatimundis. Outside of work she likes spending time outdoors, with her animals and traveling.
Leann Gerald

Veterinary Assistant
Leann is one of our veterinary assistants. She graduated from Dayton High School and plans to continue her education to become a Licensed Veterinary Technician. She has worked in the veterinary field for about two years before joining our team in fall 2022. Leann has a large and loving family; she is the youngest of 8. She has 4 dogs at home, Piper, Novah and Natty. Outside of work she enjoys being with family and helping others.